If your camera isn't working during a job delivery, follow the steps below:
1. Tap broken camera icon (option circled below):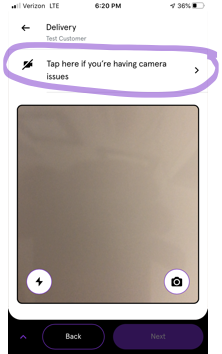 2. Next, leave the box in a non-exposed location and take a picture of it with your phone camera.
3. Return to the AE app and click "email photo:"
A new window will open with your email already populated with all the information needed by Asurion.
4. Hit send:
5. Return to the AE app.
6. Confirm that you were able to email the photo.
6. Complete the job flow as usual.
We hope this article was helpful!
The AE Support Team